Despite the huge impact of the global COVID-19 pandemic, research and training that will help more individuals and their families internationally reach diagnoses continues at a wonderful pace. The UDNI is proud to showcase global research highlights, news from our UDNI committees and working groups and UDNI partners, as well as highlight educational, training and funding opportunities.

NEW RESEARCH PUBLISHED
Accurate, detailed, and standardized phenotypic descriptions are essential to support diagnostic interpretation of genetic variants and to discover new diseases. The Human Phenotype Ontology (HPO), extensively used in rare disease research, provides a rich collection of vocabulary with standardized phenotypic descriptions in a hierarchical structure. However, to date, the use of HPO has not yet been widely implemented in the field of inborn errors of immunity (IEIs), mainly due to a lack of comprehensive IEI-related terms.
The Authors of the paper from Ludwig Boltzmann Institute for Rare and Undiagnosed Diseases in Vienna and the University Medical Center Groningen sought to systematically review available terms in HPO for the depiction of IEIs, to expand HPO, yielding more comprehensive sets of terms, and to reannotate IEIs with HPO terms to provide accurate, standardized phenotypic descriptions.
They initiated a collaboration involving expert clinicians, geneticists, researchers working on IEIs, and bioinformaticians. Multiple branches of the HPO tree were restructured and extended on the basis of expert review. Our ontology-guided machine learning coupled with a 2-tier expert review was applied to reannotate defined subgroups of IEIs.
Four main branches of the HPO tree were revised and expanded and 73 diseases from 4 International Union of Immunological Societies–defined IEI disease subgroups with HPO terms were reannotated. They achieved a 4.7-fold increase in the number of phenotypic terms per disease. Given the new HPO annotations, it was demonstrated an improved ability to computationally match selected IEI cases to their known diagnosis, and improved phenotype-driven disease classification.
Targeted expansion and reannotation presents enhanced precision of disease annotation, will enable superior HPO-based IEI characterization, and hence benefit both IEI diagnostic and research activities.

Publication:
Curation and Expansion of Human Phenotype Ontology for Defined Groups of Inborn Errors of Immunity
Matthias Haimel, Julia Pazmandi, Raúl Jiménez Heredia, Jasmin Dmytrus, Sevgi Köstel Bal, Samaneh Zoghi, Paul van Daele, Tracy A. Briggs, Carine Wouters, Brigitte Bader-Meunier, Florence A. Aeschlimann, Roberta Caorsi, Despina Eleftheriou, Esther Hoppenreijs, Elisabeth Salzer, Shahrzad Bakhtiar, Beata Derfalvi, Francesco Saettini, Maaike A. A. Kusters, Reem Elfeky, Johannes Trück, Jacques G. Rivière, Mirjam van der Burg, Marco Gattorno, Markus G. Seidel, Siobhan Burns, Klaus Warnatz, Fabian Hauck, Paul Brogan, Kimberly C. Gilmour, Catharina Schuetz, Anna Simon, Christoph Bock, Sophie Hambleton, Esther de Vries, Peter Robinson, Marielle van Gijn, Kaan Boztug
J Allergy Clin Immunol 2021, Epub ahead of print
doi: 10.1016/j.jaci.2021.04.033.
https://doi.org/10.1016/j.jaci.2021.04.033
https://www.jacionline.org/article/S0091-6749(21)00732-6/fulltext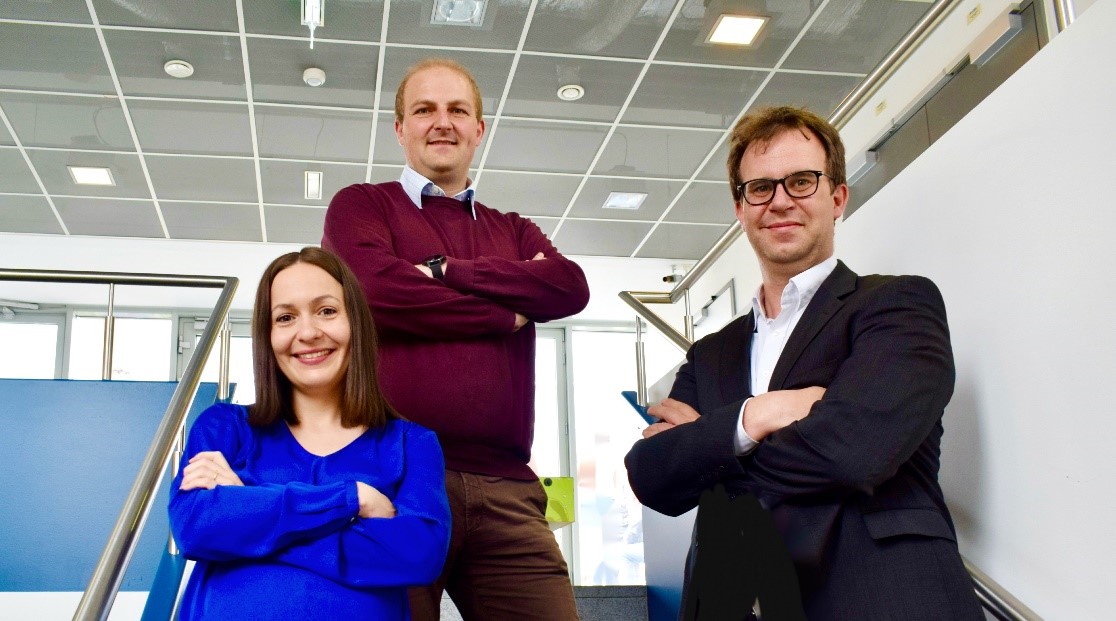 Foto: (from left) Julia Pazmandi, Matthias Haimel, Kaan Boztug
Credit: St. Anna Children's Cancer Research Institute


NEWS
Two new UDNI Working Groups has been established within UDNI network.
UDNI Diagnostic Working Group.
The UDNI Diagnostic Working Group (DWG) has been established following the proposal for this initiative at the
The UDNI DWG is co-lead by Professor Ann Nordgren, from the Karolinska Institute Sweden, Professor Lorenzo Botto from the University of Utah, USA and Dr Elizabeth Emma Palmer, from the University of New South Wales, Australia and so far has over 26 members from diverse countries including Singapore, Turkey, Sri Lanka, China, Japan, Mexico, USA, Sweden, Italy and Hungary. They have strong partnership with the Wilhelm foundation with Mikk and Helene Cedderroth both key members ensuring that the needs of patients and families are foremost.
The group has three main goals:
• Clinical : to help reach a diagnosis for individuals suspected to have rare genetic disorder and to support families and their medical teams, wherever they live in the world,
• Research: to develop generalizable knowledge about the optimal ways to diagnose rare conditions and delineate novel rare disease, and
• Education: to help train the next generation of clinician scientists and to improve capacity in the workforce globally.
The UDNI DWG are currently seeking volunteers at any stages of their career to share their skills and knowledge, and learn from this wonderful community. Please contact Emma at elizabeth.palmer@unsw.edu.au if you would like to learn more. They are particularly looking for individuals with skills in clinical phenotyping (for example clinical geneticists, dysmorphologists, neurologists, immunologists, gastroenterologists, immunologists, endocrinologists, haematologists, dermatolgoists and rheumatologists) and experts in molecular genetics, bioinformatics and genomic analysis.

UDNI Data Sharing Workgroup.
The main goal of the group is to share and disseminate information on i) Network Announcements; ii) Family Stories; iii) Matchmaking; iv) Clinical Diagnosis Activities; v) Communication Between UDNI Community Members; vi) Education.
Good work to the new groups!

FUNDING
Funding success
UDNI members Gareth Baynam, Elizabeth Emma Palmer, Julie McGaughran and Tracy Dudding-Byth are part of a team of Australian clinicians and scientists who have just been awarded 3 million Australian dollars to bring together a network of undiagnosed disease programs across Australia. The program will be called UDN-Aus. This will be a fantastic opportunity to grow capacity and skills in undiagnosed disease programs across Australia. A particular focus will be improving the access and equity of undiagnosed disease programs to Aboriginal and Torres Strait Islander Australians.

Funding supports Australians living with a rare disease
UNSW Sydney researchers have been awarded $1.9 million for a project that will develop and deliver rare disease resources, education and training.
https://newsroom.unsw.edu.au/news/health/funding-supports-australians-living-rare-disease